Frac Flowback Treament by EPT EOX
Ground Effects successfully treated frac flowback water at a waste treatment facility, increasing the plants ability to reuse and sell the clean water, as well as increase injection rates in disposal wells by up to 87%.
The water treatment facility accepts large quantities of frac flowback waters which is disposed of by injection into disposal wells. Disposal wells are in tight formations and even with over 3000psi pressure applied, rates of injection are approximately 15m3 per hour. The goal of the EPT pilot was to increase injection rates of the frac flowback by at least 12% (1.8m3 per hour), as well as reach specified criteria for water reuse and resale.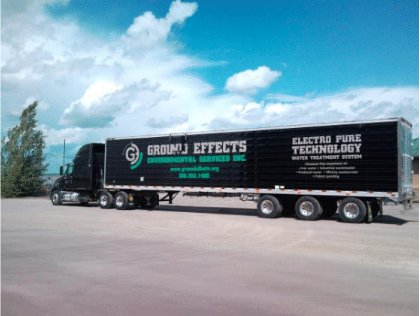 Ground Effects successfully treated frac flowback water exceeding reuse criteria. The water is now available for resale and reuse. The added performance of substantially increasing disposal injection rates now allows the disposal company to accept more and varied waste streams for treatment and disposal. The EPT treatment allowed for seamless integration with existing process equipment and operation, while maintaining a small footprint.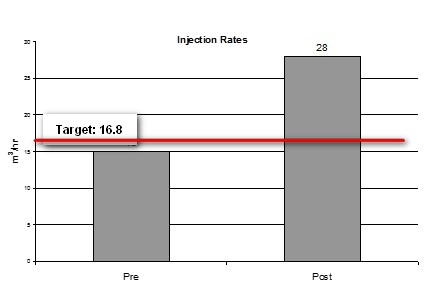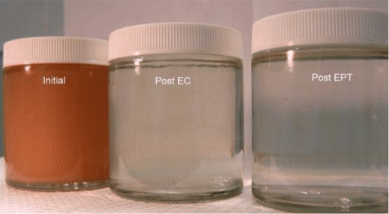 EPT Results
Significant reduction in corrosion and plugging potential.
Breaking and settling of frac gel emulsions.
Elimination of BTEX, F1 and extractable hydrocarbons.
Injection rates increased by up to 87%
Elimination of bacteria
Water now available to resale and reuse

| Parameter | Unit | Initial | Post | % Removal |
| --- | --- | --- | --- | --- |
| Total Suspended Solids | mg/L | 243 | 10 | 96 |
| Iron (Fe) - Total | mg/L | 25.7 | 0.518 | 98 |
| Alkalinity, Total (as CaCO3) | mg/L | 266 | 88.3 | 67 |
| Oil and Grease | mg/L | 38.6 | 1.2 | 97 |
| Total Bacteria | MPN/100mL | 21000 | < 3 | |
Case Study
Sector
Location
Saskatchewan
Key Product
Extracted Contaminants
Bacteria
Total Suspended Solids
Hydrocarbons
H2S
Oil and Grease
NORM