World's First Chemical-Free Silica Removal for SAGD Produced Wastewater
Proven OPEX $ 0.40 - 0.80 /m3...and 50% reduction in CAPEX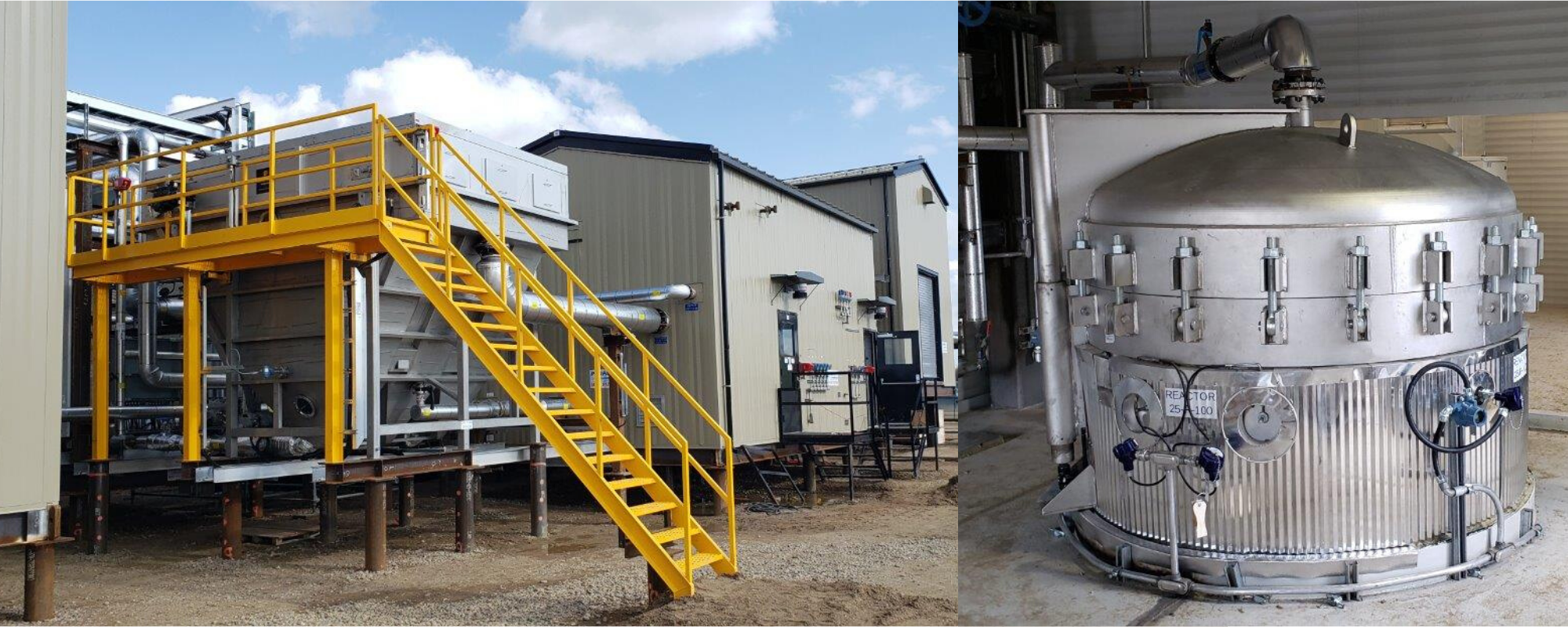 World's first chemical-free Electrocatalytic Oxidation System (EOX) to remove silica+ from SAGD produced water
Ground Effects Environmental Services (GEE) has designed, manufactured and implemented the world's first electrocatalytic oxidation (EOX) solution to remove silica and other major contaminants from SAGD produced water. A cost-reducing and turnkey replacement for problematic and costly Warm Line Softening (WLS) and Hot Line Softening (HLS), GEE's EOX wastewater solution is a game-changer.
1. Proven Broad Spectrum Contaminant Removal
As a world leader in developing advanced chemical-free technologies to treat wastewater, GEE's scalable EOX solution for SAGD effectively removes silica, TOC, TSS, H2S, hydrocarbon, iron, bacteria and hardness from SAGD produced water within the operating temperature range of 85-135º Celsius. The process uses electrocoaguation with iron electrodes, with ozone as a catalyst, to create Fenton's Reagent as one of the most powerful oxidants and contaminant removal processes on the planet.
2. Proven Results
GEE's EOX handles upset conditions with ease and has minimal sludge compared to WLS and HLS. The recent successful project brought undeniable results from a 2500 m3/day commercial project and is scalable up to 20,000 m3/day. Contact GEE today for a presentation on what the technology can do for you and the huge OPEX and CAPEX savings you can realize. From lab and pilot testing to turnkey design and manufacturing, GEE can successfully do it all.
3. Compact Footprint, Scalable & Easy to Operate
The GEE EOX solution using electrocoagulation, has a compact, modular design with 30 seconds residence time that is scalable from 1,000 - 20,000 m3/day implementations. We can bring your complete turnkey solution on-line in 6-8 months. In addition, our robust design is easy to operate and optimize from anywhere in the world with high runtimes.
Operational Flow
Our proven SAGD wastewater treatment process to replace WLS and HLS is scalable up to any size and flow rate while maintaining the lowest CAPEX and OPEX costs in the industry, while having a compact footprint. We will work with you to design, engineer and commission the solution aligned to your specific project needs. Here are the steps: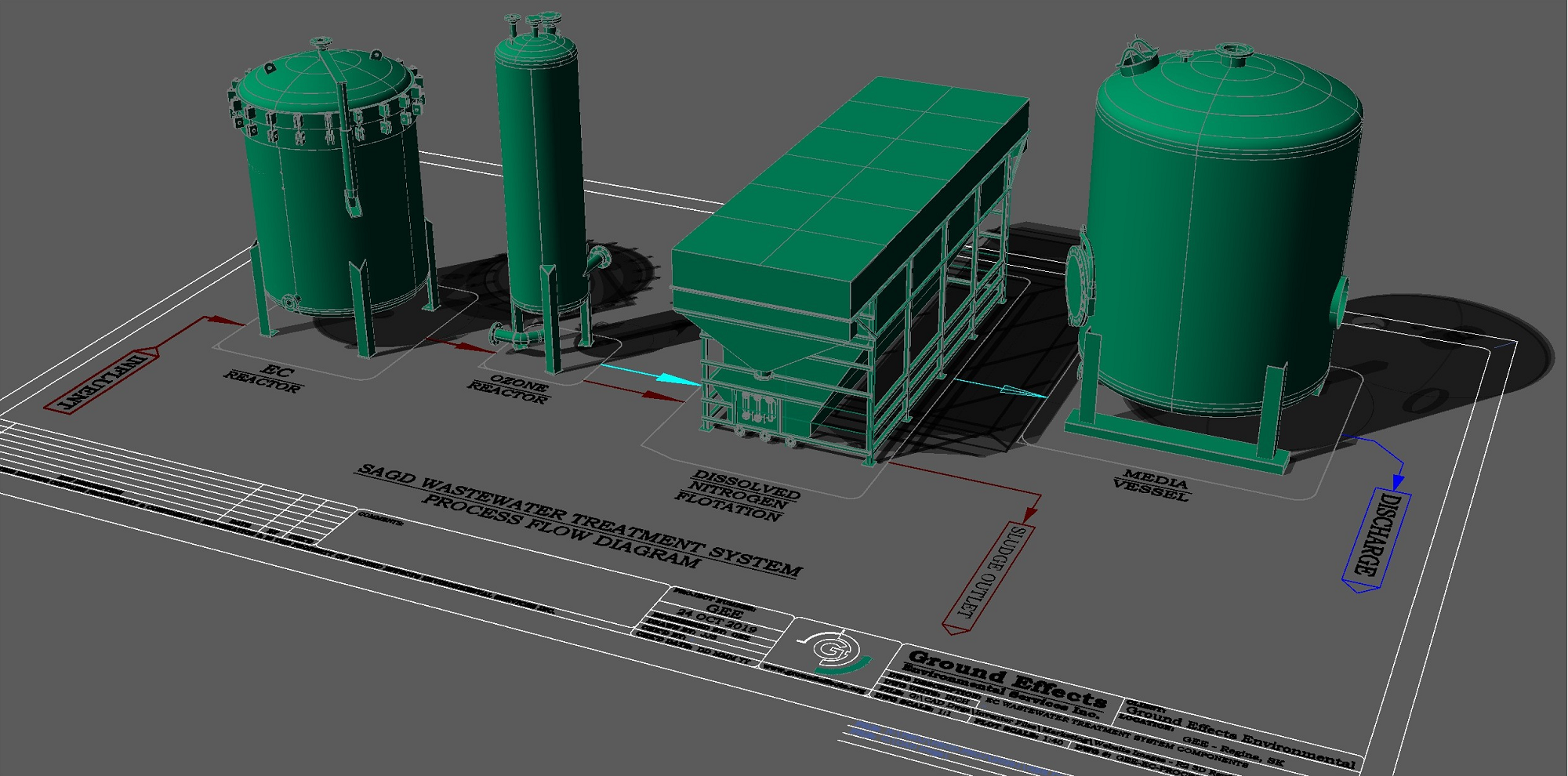 SAGD Produced Wastewater Treatment System Operational Flow Diagram
1

EOX - Electrocatalytic Oxidation
3

Dissolved Nitrogen Flotation
4

Dissolved Nitrogen Flotation
---
Customers and Industries
We build turnkey wastewater treatment and solids control solutions for:
Oil & Gas Industry
Municipalities
Industrial
Mining
Agricultural
Food & Beverage
Delivery Type
Compact & Scalable
The EOX solution has proven results and is scalable up to at least 20,000 m3/day with a compact footprint.
Modular
Large-scale, turnkey technology...stand alone or in addition to existing technology.
Fixed Plant
Stand alone or in addition to existing technology, fully scalable.
---
Services
Financing:
We have financing for rentals, leasing or design/build/operate arrangements.
Installation: We can plan, implement and oversee any installation of GEE systems with best practice project management. We know how to work with your team to get the project done on time and on budget.
Commissioning: We commission any GEE system solution and remain onsite until fully operational. We provide training and commissioning on any system anywhere in the world through our network of industry partners.
Economics Savings
Our world-leading chemical-free, electrokinetic-based technology provides clients with the lowest CAPEX and OPEX systems in any industry:
Lowest OPEX cost per m3 of treated wastewater in the world for any industry
Robust design and low maintenance costs
Compact footprints
High runtimes
Financing Options
We offer a variety of financing options from equipment rental to design/build/operate. Contact us to explore out which financing option works for your project.